Mass Flow Controllers & Meters
MCD–Series: Bidirectional Gas Mass Flow Controllers
model
MCD–Series: Bidirectional Gas Mass Flow Controllers
Alicat MCD-Series Bidirectional Gas Mass Flow Controllers can be used to control flows into your flowing or closed process in one direction, and then reverse flow with multivariate measurement of flow, pressure, and temperature in each direction. They can alternatively control flow into a closed process using pressure control while monitoring flow rates, and then vent the volume with no need for additional bleed valves. Custom valve and PID tuning ensure your controller delivers fast and stable control, in both directions.
Accurate, versatile control. Control flow or pressure of 98+ gases, including custom mixtures defined using Alicat's COMPOSER™ firmware, with NIST-traceable accuracy to ±0.5% of reading or ±0.1% of full scale.
Fast, multivariate data. Millisecond-response times immediately upon powering up, to display flow, pressure, and temperature readings in real-time, in your choice of engineering units.
Easy integration. Custom process ports and electrical connectors, and your choice of EtherNet/IP, EtherCAT, DeviceNet, Profibus, Modbus (RTU and TCP/IP), or serial communications for easy integration into your industrial process.
Accessories included with purchase:
Not exactly what you're looking for?
Explore other gas mass flow meter options in the models tab, including high pressure, anti-corrosive, and low pressure drop devices.
Contact us to discuss standard or custom build options with an applications engineer
MCD-Series performance (most products)
Available ranges: max –3000 to +3000 SLPM; min –0.5 to +0.5 SCCM
Steady state control range: 0.01% – 100% of full scale
Standard accuracy calibration, NIST–traceable: ±0.6% of reading or ±0.1% of full scale
Optional high-accuracy calibration, NIST–traceable: ±0.5% of reading or ±0.1% of full scale
Repeatability: ±(0.1% of reading + 0.02% of full scale)
Typical control response time: as fast as 30 ms
Warm–up time: <1 s
MCD-Series operating conditions
Compatible gases: 98 pre–loaded selectable gas calibrations; additional mixtures definable with COMPOSER™
Operating temperature: –10°C to +60°C
Full scale operating pressure: 160 PSIA
Max differential pressure: 75 PSID
Proof pressure: 175 PSIA
Reference conditions: user-selectable; defaults: 25°C & 1 ATM (STP) and 0°C & 1 ATM (NTP)
Available device ranges for MCD-Series
Alicat offers controllers with custom flow ranges from 0.5 SCCM full scale to 3,000 SLPM full scale, each with a control range of 0.01% to 100% of full scale. Custom devices are ranged to best meet your specific application needs for full scale flow rate and operating range.
It is important to note that some device specifications vary depending on the full scale flow rate.
If you have any questions or need additional information, reach out to our applications engineers.
Device customization | Build and performance options
Communications protocols: analog, RS–232, RS–485, DeviceNet, EtherCAT, EtherNet/IP, Modbus RTU or TCP/IP, PROFIBUS
Displays: monochrome or color; integrated or panel–mount
Process connections: NPT, SAE, AN, BSPP/G, welded compression, or VCR/VCO fittings
Elastomers: Viton, FFKM, EPDM, Silicone
Calibration: High-accuracy or custom
Performance: Flow totalizer; integrated potentiometer control
Valve sizing and PID tuning | Valve options
Your mass flow controller may be customized with one of the following valving options to ensure optimal performance under your expected process conditions.
MCD: small proportional control valve for flow ranges of 20 SLPM and below
MCD with PCA designation: high-performance proportional control valve used for some applications with higher pressures
MCPD: small proportional control valve with the largest orifice (not available for corrosive configurations)
MCRD: nearly frictionless large Rolamite proportional valve for flow rates of 50 SLPM and above
Accessories | Sold separately
Process port fittings and filters
Power supplies
Communications cables and conversion cables
BB3 and BB9 multi-drop breakout boxes
Automated leak testing with bidirectional flow control
Set the MCD to control absolute pressure, and you have a basic leak-check system in a single device. Once the test pressure is achieved, a positive flow rate indicates the presence of a leak. The second valve is used at the start of the test to ensure the target pressure is not overshot, and at the end of the test to release the pressure.
Testing and characterization of a pressure relief valve
The MCD bidirectional flow controller sets a constant mass flow rate against the pressure relief valve as the absolute pressure in the system is recorded. After the relief valve opens, a negative flow setpoint is commanded to reduce the pressure and prepare for another run.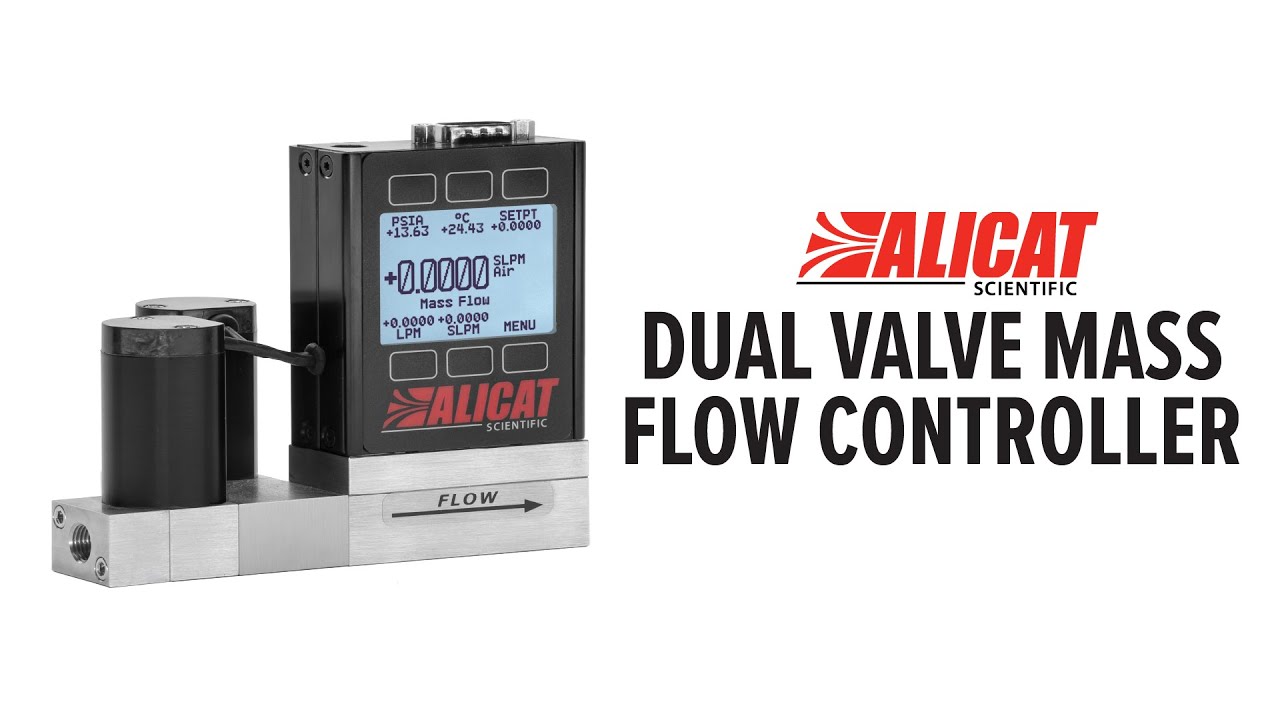 https://www.youtube.com/watch?v=-mZMkQWgr3M
Ask a question