Mass Flow Controllers & Meters
Whisper™ MCDW–Series: Low Pressure Drop Bidirectional Gas Mass Flow Controllers
model
Whisper™ MCDW–Series: Low Pressure Drop Bidirectional Gas Mass Flow Controllers
Alicat Whisper™ MCDW–Series low pressure drop bidirectional mass flow controllers are ideal for controlling mass and volumetric flow rates when there is little available system pressure. Low pressure drop minimizes system impact, enabling flow control at near-atmospheric pressures and shortening system response times. Alicat's MCDW brings the benefits of low pressure drop to our incredibly versatile MCD bidirectional flow controller.
Control flows into your flowing or closed process in one direction, and then reverse flow with multivariate measurement of flow, pressure and temperature in each direction. Or control flow into a closed process using pressure control while monitoring flow rates, and then vent the volume with no need for additional bleed valves. We'll use your application parameters to customize your valve and PID tuning to ensure that it delivers fast and stable control, in both directions.
Versatile. Control flow with positive pressure or vacuum in one or both directions. Or control pressure into flowing or dead-ended processes. (Download our infographic on the right for flow diagrams.) In all cases, flow measurement is multivariate (mass flow, volumetric flow, pressure and temperature), and you can select another gas calibration on the fly or define your own gas composition with COMPOSER™.
Connected. Easy integration into your digital industrial network with EtherNet/IP, EtherCAT, DeviceNet, Profibus, Modbus (RTU and TCP/IP) or serial communications options.
Durable. Backed by annual recalibrations and our limited lifetime warranty, an Alicat instrument will keep your process running smoothly, even in challenging environments, for years to come.
Alicat's MCDW–Series uses small proportional valves for control at lower flow rates and is suitable for use with non–corrosive gases.
MCDW-0.5SCCM-D
MCDW-1SCCM-D
MCDW-2SCCM-D
MCDW-5SCCM-D
MCDW-10SCCM-D
MCDW-20SCCM-D
MCDW-50SCCM-D
MCDW-100SCCM-D
MCDW-200SCCM-D
MCDW-500SCCM-D
MCDW-1SLPM-D
MCDW-2SLPM-D
Alicat's MCRDW–Series uses nearly frictionless Rolamite valves and a variety of orifice patterns for control at high flow rates and is suitable for use with non-corrosive gases.
MCRDW-5SLPM-D
MCRDW-10SLPM-D
MCRDW-20SLPM-D
MCRDW-40SLPM-D
MCRDW-50SLPM-D
MCRDW-100SLPM-D
MCRDW-250SLPM-D
MCRDW-500SLPM-D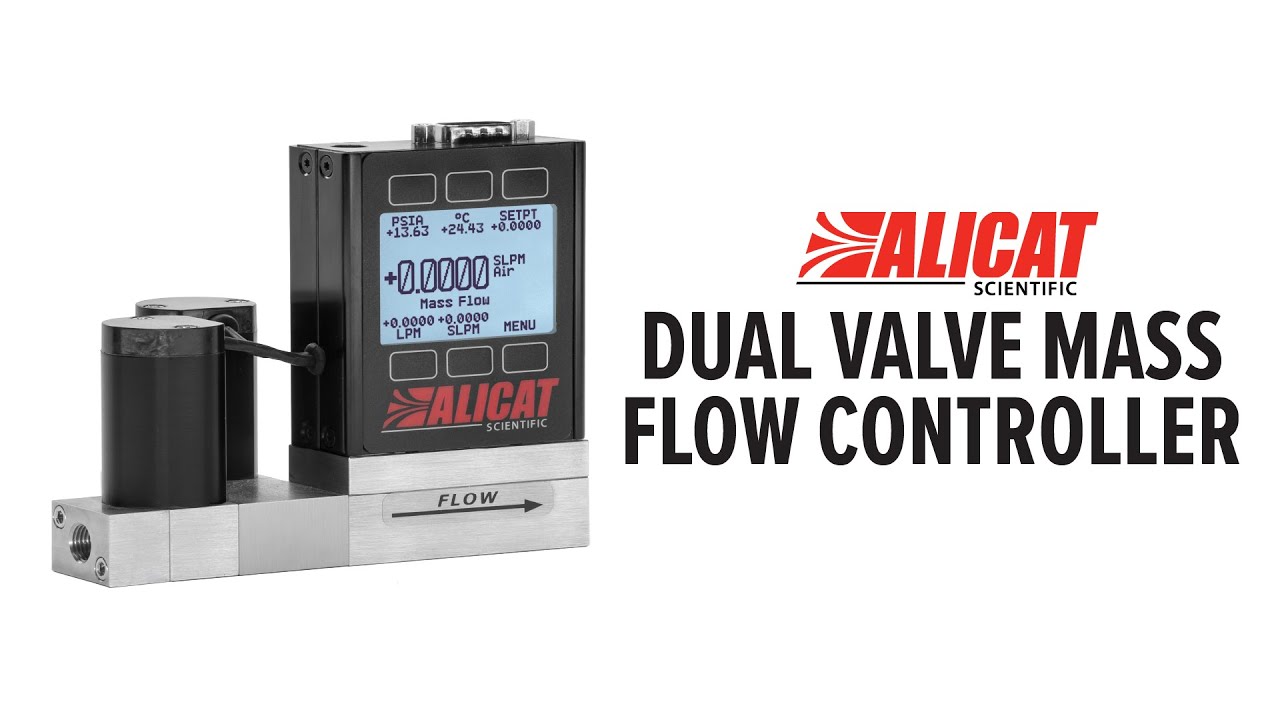 Dual Valve Mass Flow Controllers from Alicat
Ask a question